Peach at 25: Part 3
In the third of the series' instalment Peach celebrates a quarter of a century in the business and a selection of adland's highest-profile voices look back on the creative moments which have defined the past 25 years.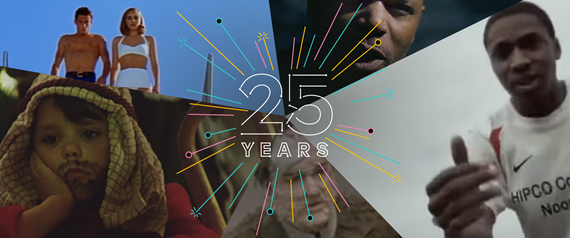 In the information age, a day can feel like a long time, especially in the hyper fast-paced world of advertising. 25 years, then, represents an era in which - quite simply - everything has changed. And then changed countless times again. 
One constant in the industry since 1996, however, has been the adtech platform Peach and its ability to deliver creativity. Peach's impact on adland really cannot be understated although it's simplicity has always been Peach's game. And as the industry stands at a point at which complexity is weaving its way into every facet of the creative process, a little bit of simplicity feels like an incredibly modern need. 
Today, however, we're taking a moment to reflect back on the road that brought us to this point. Over the course of this series of articles, we'll hear from some of the highest-profile and influential voices in adland about the creativity which means so much to them. Each interviewee has picked one ad which they remember fondly, taken from any moment over the past 25 years. As we chart our way through the past quarter century of creativity, we'll reflect on just how vital creative delivery has been in ensuring that these moments of inspiration took place. So, with all that in mind, here's to another 25 years…
---
Swimmer (Levi's, 1992)
Sergio Lopez, EVP, Global Head of Production, Publicis: I'm a big fan of the work BBH did with Levi's throughout the 1990s - the golden era of TV ads. It's hard to pick just one. In terms of engagement, those ads built the brand, made it iconic among all the other denim brands then on the market. 
Those ads had everything: craft, storytelling, cinematic quality - just excellent. The modern consumer today sees ads as an inconvenience, especially the pre-roll ads on Youtube; they often skip them altogether. With those Levi's commercials, you can watch them over and over. It's the kind of work where everything comes together; they make you stop and watch, not skip, thanks to the creative and craft behind them. 
Long Live The Prince (EA Sports/Kiyan Prince Foundation, 2021)
Ben Brazier and Johnny Ruthven, Creative Directors, TBWA\London: The work that's stayed with us is Engine's Long Live ThePrince campaign for the Kiyan Prince Foundation. The idea of bringing back someone who's no longer with us isn't new, but this still feels completely fresh.
And to make a piece of work about knife crime both compelling and culturally relevant is an incredibly hard thing to do; many have tried, few have succeeded, but these guys have smashed the back of the net here.
Using FIFA 21 -  a platform that's such a large part of the target market's world - demonstrates an acute understanding of the audience and who they look up to and admire. It was a real labour of love and took years to get right. But it was worth it. It's a seminal piece of work and we'll still be talking about it in 20 years' time.
Pinata Man (Skittles, 2008)
Steve Paskin, Creative Director, Publicis Poke: To launch new chocolate flavoured Skittles, TBWA - with the help of comedy gods Graf, Reichenthal and Vitrone - produced this timeless masterpiece. The great thing about American advertising is they don't forget the sell, you are left with no doubt what the product or message is. All you need to know is there's now chocolate flavoured Skittles. 
It's not hidden or even subtle. Wrapped around the product shout out is a daft scenario that with great direction by Tom Kuntz will stick in your head. I've seen it a thousand times but it still makes me laugh. "I'm just like everyone else" gets me every time. I think you really get to feel the pain of what it must be like if you were unfortunate enough to be born a pinata man. You really feel for him.
Take It To The Next Level (Nike, 2008)
Josh Mandel, President of Advertising, Technicolor Creative Studios: This ad made me fall in love with the work done by The Mill. It's a football ad unlike any before it - directe by Guy Ritchie - so true to the sport. When I joined The Mill two years ago, it was because of Take It To The Next Level.
The Long Wait (John Lewis, 2012)
Shelby Akosa, VP Global Growth, Creative & Production, Peach: Being asked to pick your favourite ad is like being asked to pick your favourite song.  It depends on so many things!  So given our screens are full of festive ads at the moment, the one I've chosen is the one that sparked the inspiration behind many of the big budget Christmas productions we come to enjoy today.
The Long Wait - John Lewis's 2011 Christmas campaign featured an impatient and bored young boy.  Maybe because at the time I had two little boys, the unexpected ending has really stuck with me.  There's no call to action, no must have product one is just left with a warm fuzzy feeling.  Once launched, clients would have been on to their creative agencies demanding a John Lewis like Christmas ad. 
The Long Wait set the standard very few have been able to achieve.
(This article is one of a five-part series of Peach's 25th birthday celebrations. Look out for new pieces over the coming weeks, filled with more great ads and the reasons why they live on in our imaginations. Read the first instalment here, and the second here.)