Deliver, source, collaborate and format ads for Converged TV
The new name for the Peach product, Peach Connect helps you get control of your Converged TV campaigns across linear TV, CTV and digital.
Get started now
Distribute ads
Right files. Right format. Right where you need them.
Peach Connect gets video and display ads where they need to be in the best possible quality — with less faff than ever.
Destination everywhere
The Sky isn't the limit. Get content to media agencies, broadcasters, social, BVoD and online securely around the world, through one platform. Read more…
Ad platform automatic upload
Just authorise and push your assets directly to a library or account on YouTube, Amazon Advertising and Google Campaign Manager. Many more integrations to follow. Read more…
Live status of assets
View the status of your files as they go through uploading, QCing, being sent to destinations and more.
We manage the specs so you don't have to
No more hunt the specs. We maintain a database of media owner and platform video file specs for you and create the files for you — so say goodbye to content rejections.
Audit trail
Don't just hope your assets land safely — make sure you know exactly where they are. Peach Connect keeps track of which broadcasters, publishers and media owners have your ads.
Prioritise immediate delivery
In a rush? Get your assets distributed immediately to broadcasters, platforms and publishers around the world.
Supports every aspect ratio and screen
From TV to DOOH, Twitter to Google Campaign Manager in any aspect ratio including 1:1, 2:3, 16:9, 9:16 and 4:5
Update and re-use assets
Last minute campaign changes? Need to play out an ad used last year? Peach makes it easy.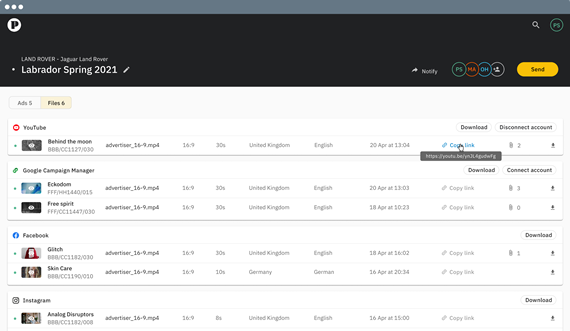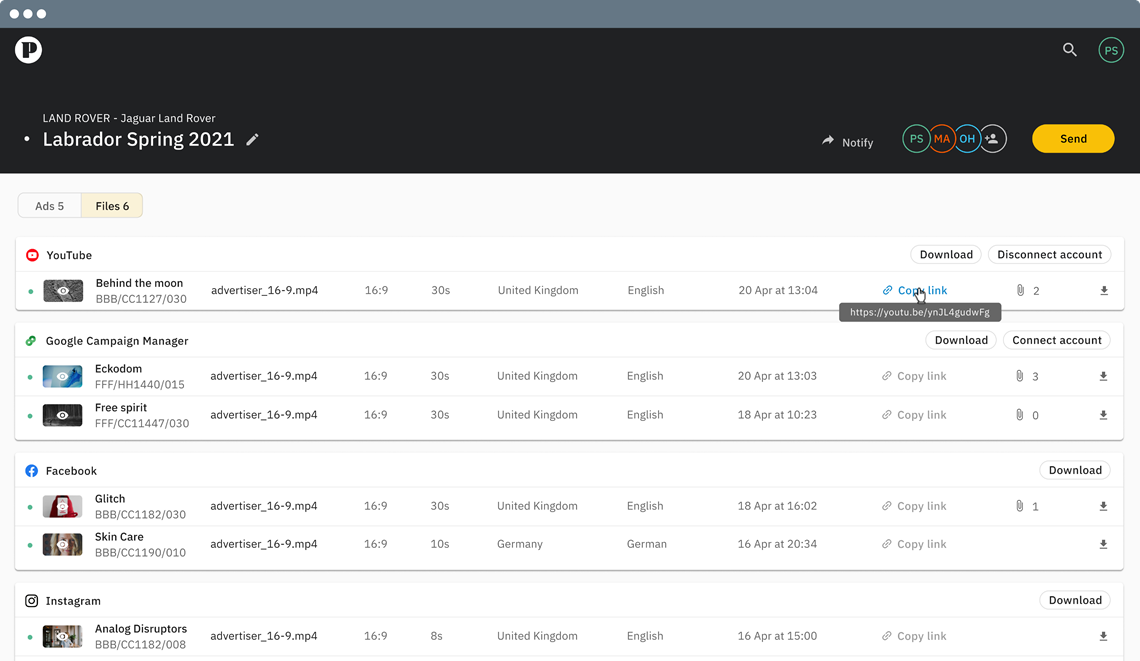 Source & activate
Take control of your ad workflow
Peach Connect makes it easy: request, source and activate ads.


Get the ads you need
Request the video assets needed by name, duration, aspect ratio and platform to ensure that what is uploaded is exactly what you need.
Source & download
Download video and display assets, all named and organised by platform — ready to activate on ad platforms and publishers.
Automatically push files to ad platforms
Just authorise and push your assets directly to a library or account on YouTube, Google Campaign Manager or others to follow. Read more…
Direct to media owners and more
Make ads directly available to agencies, media owners, publishers and broadcasters.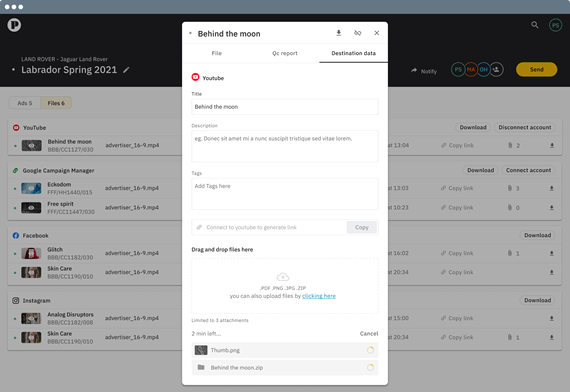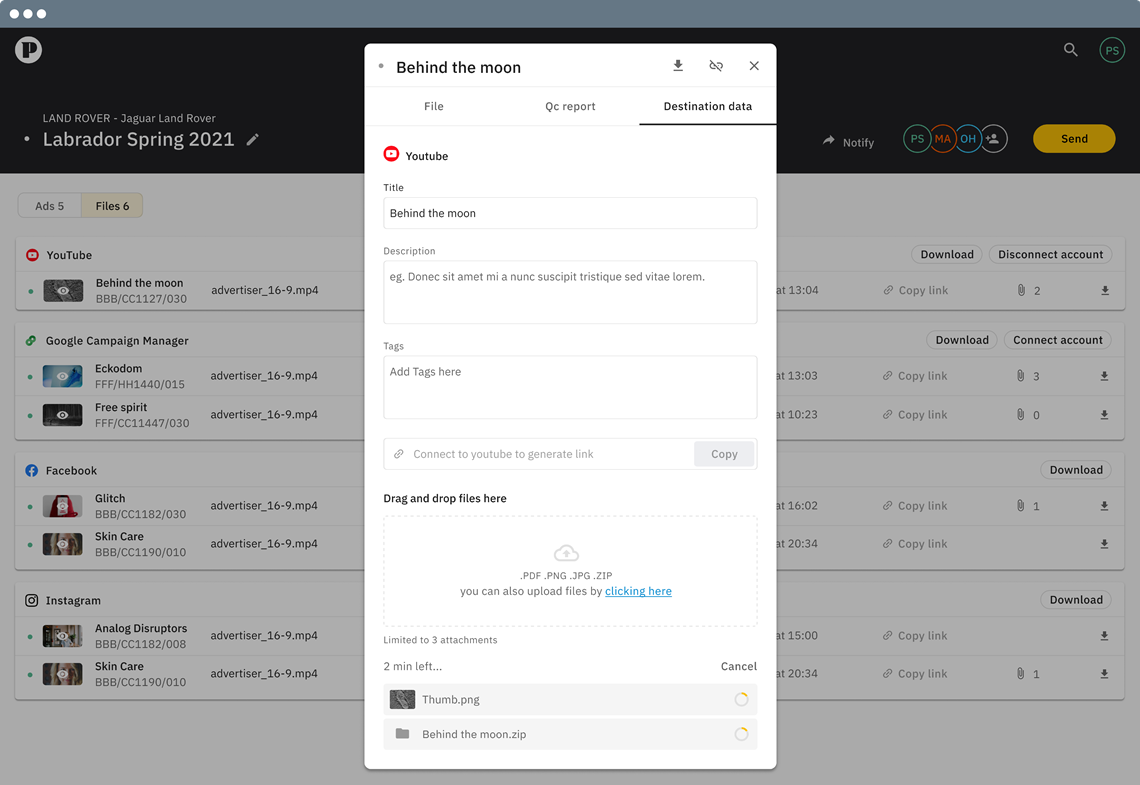 Collaborate
No more communication chaos
Get everyone in creative, production and media on the same page.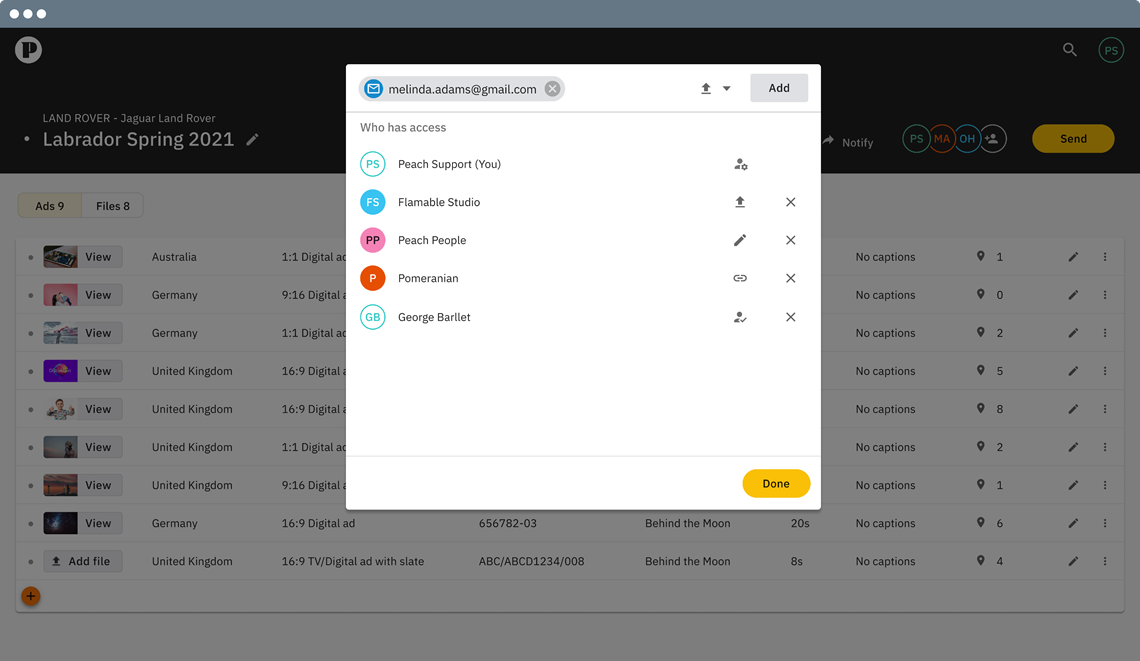 Collaborate with individuals and teams
Need to work with creative teams, production, planners or ad ops? Save everyone's time and cut the confusion — manage it all from Peach Connect.
Designed & built for security
Make sure only the right people and teams have access to the data and assets they need.
Easily add new collaborators
Add people just with their email address, whether they are new Peach Connect users or already in the address book.
Flexible roles
Invite the right people to do the right job: create campaigns, request assets, download and activate, view, approve or upload.
Quality checking
No more formatting errors. Peach Connect makes sure everything is right for where it needs to go by checking aspect ratio, resolution, duration, regional legal rules and more.
Insights & reporting
Be sure that what you're creating is used. Get transparency of your supply chain, valuable insights and data.
24/7 support
We might rely on automation to get your ad from A to B but when it comes to support we're 100% human. Always here to help, with global 24/7 expert chat, email, phone support, plus help pages with videos and tech specs.
Integrations
Connect it all up with Peach. Integrated with your creative workflow and 16,000+ broadcasters, ad servers, social and more — we make the ad industry faster and more efficient than ever before. Find out more…
Explore the full Peach Suite
The new name for the Peach product. Designed for digital, social and TV: make it easy to work with creative agencies, media agencies, production and advertisers.
Previous name for A+V. Ad delivery to broadcasters designed for Latin America
Deliver linear TV ads to broadcasters around the world
Expert TV admin support for agencies, production companies and advertisers (previously IMD360 and Beeline)
Simplifying campaign administration across the industry
Peach's digital music video distribution platform, delivering content for majors, indies and self-releasing artists to broadcasters & media owners
Standardising and validating the UK's commercial data
Powering clearance in the UK
Streamlining media administration for video advertising in France