The Industry's Best Kept Secret
CARIA®: The tool that keeps the industry running.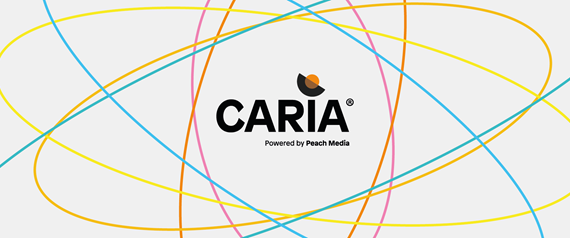 Dan Shawcross, Director of Client Services at Peach Media (formerly Optimad) reflects on the development of CARIA: the behind-the-scenes tool quietly keeping the ad industry on track.
It's one of those funny things. You can see something everyday, and not really notice it.
There it is. CARIA®. On people's screens in pretty much every media agency, TV sales house and creative agency in the UK and Ireland.  
It's so ubiquitous and so familiar that it's really not worthy of comment.
But hang on! Isn't it…?
Three thousand people collaborating, sharing campaign data online, automating processes, dodging errors… It may be part of the furniture now, but things haven't always been like this.
Back through the mists of time...
Most of you won't remember life before CARIA®. But a few of you will!
On every Television Advanced Booking Deadline (AB) day hundreds of buyers sent campaign approvals to sales houses. By Fax. Or Email. Lots and lots of them.
Sometimes they went "missing", leading to arguments about whether a launch campaign was affected by a fax machine running out of paper…
CARIA (standing for Campaign Approvals Rotation Instructions Attribution), started life as a TV booking module called eCAP (for electronic campaign approvals). Carat sent the first "ecaps" to a TV sales house called Flextech in 2003. We extended the pilot to include Mediacom and ITV before winning an industry tender, and contracting with nine sales houses to operate the service on an ongoing basis.
It sounds simple, but the short description above encapsulates a seismic advance in automated workflow, 15 years of high quality operation and literally millions of managed communications between agencies and media owners.
A small step for media bookings led to a giant leap for the industry
We've had major changes along the way. Optimad Media Systems was bought by the copy workflow specialist IMD. The management of the CARIA contract was taken over by the  unifying, steadying and impartial industry hand of Clearcast, working closely with its key shareholders, ITV, Channel 4 and Sky.
We created and launched the clearance service system ARPP.TV in France, and took over running the Attribution service and Copy Central in the UK.
And CARIA grew, and improved
We integrated CARIA with sales house systems, reducing both time spent on administration and errors in campaign set up.
We enabled creative agencies to see non-financial booking data in CARIA and systemised the copy instructions workflow. We then integrated them as well, turning this into a lights out operation in some cases.
Cinema joined, in the guise of DCM.
CARIA displays and delivers "spot schedules" to buyers that informs them what airtime is allocated to their campaigns by sales houses.
The Clearcast "Agency Link" enables CARIA data to populate agency systems, used to great effect by many agencies with Mediaocean. We also integrate CARIA with agency planning systems.
The CARIA approval ID is the de facto key unique booking identifier , used across and within sales houses and agency systems alike to automate processes, enabling the linking of data all the way through to invoicing.
Today, CARIA is the gold standard service in the UK and Ireland for TV, VoD and cinema, processing almost all campaigns and streamlining booking, copy allocation, and campaign administration.
What does all this actually mean for our clients?
The video landscape is evolving, becoming more diverse and more exciting, in particular for viewers. Broadcasters have VoD platforms. Sky has Adsmart. Facebook, Google are ever more present. Programmatic is (more) real. But beneath the covers, and counter-intuitively, many processes underpinning digital media and advanced TV advertising remain manual, and time-consuming, and carry risk.
We see that the rapidly growing world of online and advanced TV (embracing BVoD, connected TV,  addressable TV like Adsmart etc) is generating more and more transactions. These transactions will need to be processed far more rapidly than in broadcast TV in order to support new ways of advertising that are more targeted and responsive. At Peach Media, we are automating as many processes as possible to enable these new advertising technologies - and to liberate new ideas in advertising.
This is the essence of what CARIA already does for linear TV. Like our sister company Peach,  Peach Media has already started to extend its scope beyond broadcast TV; CARIA handles bookings and copy rotations for BVoD, and this week we will launch Tag management.   
As Chris Mundy, Managing Director of Clearcast says
"Peach Media is a key, trusted industry partner for us; the systems and services we contract and run with them fundamentally underpin essential industry workflows. As the industry evolves we're working with our stakeholders and Peach Media to extend these further into the non-linear digital area."
---
If you'd like to learn more about CARIA, or about the tools the Peach Media team are building to enable the industry to develop, get in touch with us at marketing@peach.me.