Whoever said to ask forgiveness not permission was never sued for copyright infringement
A guest post from Mark Egmon from The TEAM Companies on talent & rights management and the video advertising workflow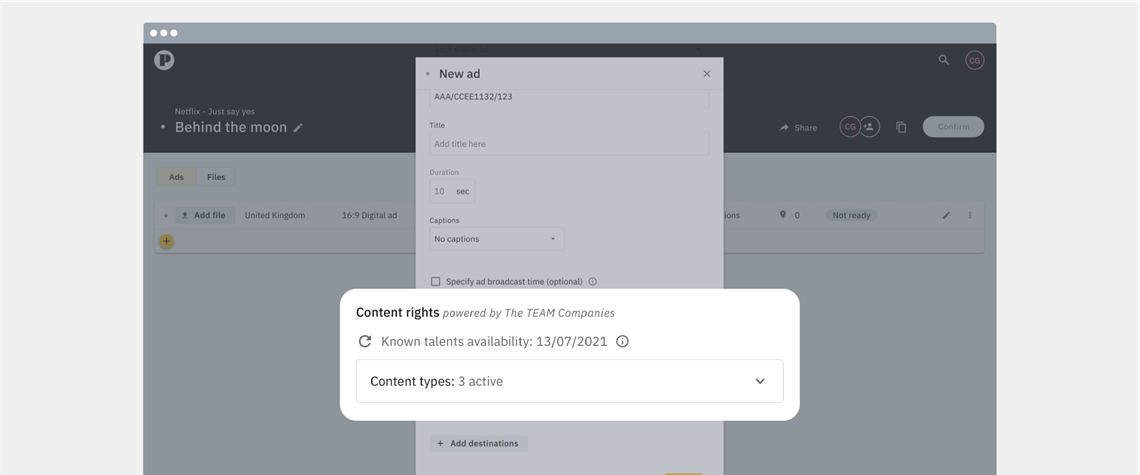 By: Mark Egmon, VP Marketing & Corporate Communications 
There are some basic rules in life that you should always follow: 
Never drink and drive.
Never lie to your doctor or your lawyer. 
Buy a plunger before you need a plunger. 
When producing content, if you use the likeness of a person that is not you or you use a  song, image, artwork or anything that you do not own, you need permission to use it. 
Yet when it comes to hundreds, or often thousands, of marketing assets, most marketers do not have a streamlined process for obtaining or tracking the rights to the thousands of talent and licensed elements that appear in them. 
This ultimately results in their need of a proverbial plunger to get them out of the deep…. mess of costly fines and usage rights violations levied against them each year. The legal fees alone are enough to drive someone to drink. 
What's a global marketer to do? Well, the first step towards a healthier rights management regimen is ensuring you have a balanced rights management process. The following four components will determine how streamlined and sustainable your rights management workflow will be. 
First, and most importantly, you will need committed internal stakeholders who will champion this process across all business units and creative partners globally. These rights management  mavens will set the scope, identify the key contributors for talent, rights management, distribution, IT/DAM platform management and marketing operations, and establish a pathway  to compliance.  
You will need access to a robust talent & rights management platform to be the central point of  truth for the logging of all talent and licensed element data, including the system's ability to track expirations and specific permissions such as allowable media and territories. 
That talent & rights management platform must integrate with ad delivery partners' platforms to provide an additional level of protection. If an asset is about to be distributed to a medium  or territory that is not allowed or if the permission to use a talent or licensed element has expired, the integrated platforms must be capable of alerting the person who is about to traffic the asset.  
Finally, the talent & rights platform must have the ability to integrate with a marketer's DAM (Digital Asset Management) system so that the talent and licensed data originally obtained and entered into the system can  be transferred seamlessly to the DAM without the inefficiencies or increased possibility of error  that come with rekeying of information. 
Once you have the framework and tools for managing rights, the devil in the details will be  identifying the elements of your commercial, print ad, online video and other marketing content that require permission for use. These typically include: 
The human element (professional talent or amateurs) involving the use of a person's  likeness & performance. That likeness can include a photo or an animated version of a  person. 
Privately owned image or video clip (including user-generated content) 
Sound recording (music, speech, podcast, etc.) 
Artwork (including logos, tattoos and exterior murals) 
Location (structures, buildings or design elements such as lighting design on a structure) 
Designer wardrobe and specially designed props >
Saying, phrase or line from a book, film or TV show 
While the need to obtain rights to some elements, like a popular song, may seem obvious, there are many other elements that can easily be dismissed or overlooked, such as the logo on  a truck in the background, the lighting design on a building, or the tattoo on a person featured  on camera. And the process of obtaining the rights can lead to a labyrinth of research for  multiple rights holders and a Herculean effort to get each to agree to give you permission for a fee that's within your budget.  
The experts and technology platforms that are redefining the world of rights management are powerful forces that are not talked about when great, award-winning creative is celebrated, but those behind the scenes know they are essential players in advertising.  
Just as "the first rule of fight club is you don't talk about fight club," the first rule of rights management is that you do not use a quote from a film without proper permission unless it is to illustrate a point for educational purposes.
And the second rule of Rights Management is make sure that you partner with the foremost leaders in global talent and licensed element rights, video advertising workflow and ad delivery. TTC, Peach & Comcast Technology Solutions' alliance provides global marketers with the subject matter expertise and best-in-class technologies to manage thousands of assets across multiple channels in dozens of markets around the world.
You can read more about this alliance in our press release 'The TEAM Companies Form Strategic Alliance with Peach'.