Converged TV is complex (but it's also full of opportunities)
Peach's Head of Product, Joe Hollywood, writes about the Converged TV evolution, the advantages and challenges, and how we're working towards simplification and automation.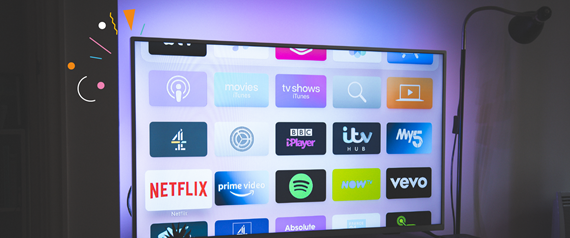 Global changes in consumer viewing habits and technological advancements are playing a fundamental role in the merging of digital and linear TV viewership - the Converged TV evolution is in full swing. 
There has been a notable acceleration of this evolution in recent times, particularly due to changes in viewing habits brought about by the COVID pandemic. The global advertising ecosystem has become more diverse and dynamic than ever before.
Data backs this up. The Connected TV market is projected to grow at around 13.7% over the next five years. Meanwhile, global open programmatic CTV spend topped $3 billion in H2 2022, a 41% increase on 2021. 
There are also some important regional and market trends to be aware of. 
Connected TV growth is perhaps most pronounced in APAC. Increased net disposable income has seen higher demand for smart TVs and growth of OTT platforms, such as iQIYI in China. Meanwhile, the market in India seems to be on the cusp of significant growth too, as does any market where increasing income meets better internet coverage. 
Meanwhile, Free Ad-Supported TV (FAST) is growing in EMEA (seen earlier this year with Joyn launching new channels in Germany), but the US is leading the way with FAST ad revenues growing by almost x20 between 2019 and 2022 and projected to hit $9 billion by 2026.  
In France, the growth of Addressable TV is particularly notable with the market rapidly maturing. A study by SNTV found that Addressable TV now reaches a fifth of all French households and we're seeing sizable increases in the volume of creative variants. 
Meanwhile, in the UK, broadcaster video on demand (BVOD) services continue to thrive, particularly in attracting younger audiences shifting their viewing habits from traditional linear TV to digital platforms. Peach expects to see an increase in investment in BVOD, with this predicted to grow by 4.4% in 2023.
The advantages of a Converged TV model
The Converged TV model provides significant opportunities to provide more personalised, relevant and premium ad experiences. 
Better targeting 
Improved targeting capabilities enable advertisers to be more relevant. The Converged TV model provides a range of demographic, geographic, behavioural and cross-device targeting opportunities, so advertisers can drive increased engagement and conversion.
Improved performance measurement
Performance data can be leveraged to drive content-led optimisation and reach audiences across platforms and devices in powerful new ways. We're seeing automation increasing and partnerships emerging focused on broadening measurement and the analytics available. Advertisers and agencies can adapt campaign strategies faster and closer to real time. 
Increased interactivity 
Interactive ads are growing now the tech infrastructure is in place to support more formats. Formats such as voice activation and shoppable ads are becoming more common; China's livestream shopping market alone is projected to hit $500 billion this year. 
With increased interactivity, there's yet more opportunity to improve cross-campaign engagement with audiences increasingly digital natives. Initial engagement suggests interactive ads have the potential to be a powerful, influential format. Let's not forget social media integrated-ads: more advertisers are making these part of their marketing strategy, allowing for seamless audience engagement and cross-channel promotion.
Content-driven premium experiences 
At Peach, we believe content is king and it should drive a lot of that relevance and premium experience. We see opportunities to connect content with data, reaching audiences across platforms and devices with better content recommendation - increased automation can help drive greater engagement as well as efficiency. That's a key area of focus for us. 
The challenges that lie ahead
Data connectivity 
In an increasingly diverse landscape filled with platforms, devices and systems, data fragmentation presents a serious challenge when it comes to implementing integrated media strategies. While there have been attempts to consolidate and simplify, the process of activating ads still heavily relies on manual workflows to transfer data and content from A to B. And because the converged TV landscape is evolving rapidly, the industry doesn't have the mature processes in place compared to traditional linear TV. 
So how do you best activate and optimise your campaign? 
Connecting data from multiple sources is vital to simplifying workflows and driving relevancy. Peach Partner APIs are playing a key part in helping to connect the ecosystem.  Adoption of universal identifiers to connect data remains crucial, as is leveraging technology such as content-based detection and machine learning to increase automation and reduce costs.
Scaling creative production
With increased opportunities to diversify targeting and work with more creative variants, we start to see issues relating to production effort. Producing high volumes of engaging content that is relevant and optimised is a challenge. 
There's a great opportunity here to leverage the best tech and AI to support creatives across different parts of the campaign at scale. This includes using visual analysis upstream to inform creative production; focusing energy on what is working. 
Brand guidelines, compliance and regulation 
Ensuring brand guidelines are consistently applied across Converged TV assets is another challenge. As brands execute blended TV strategies across different platforms and devices, they need to take great care to guard their credibility when working with new formats in the converged landscape. 
Zeroing in on ad compliance and regulation, we're starting to see signs of increased regulation in different geographies. It remains to be seen if, and how, compliance can be scaled to manage an increase in creative variants and new formats but it's essential that local market laws, rules, and guidelines are understood and followed. 
The future of Converged TV
The future of Converged TV will be marked by a few different factors. 
Accessibility is the first one to call out. It's more important than ever to ensure that content is inclusive and accessible to all. This is key to ensuring advertisers can reach and engage with the widest possible converged TV audience, comply with market-specific regulations and help improve brand reputation.
We have also started to see streaming TV subscriptions slowing or in decline globally as several have risen their prices and cut costs. There are signs from both agencies and publishers that gaming could soon be heavily integrated in the converged landscape as a key channel to drive engagement and reach audiences. An area to keep a keen eye on!
Meanwhile, we will continue to see an emphasis on holistic performance measurement. This is essential to validating the value and impact of TV ads in a rapidly evolving consumer environment. We're already seeing signs in the UK with CFlight emerging to help the measurement of total TV viewing. Likewise, Origin, ISBA's advertiser-backed programme, aims to create a blueprint for cross-media measurement. 
-
Currently, the converged TV ecosystem is very complex. At Peach, we see massive opportunities to simplify the complexity, automate processes and deliver premium experiences. Solving these problems is a priority for us as it will enable our industry to focus on what it does best: delivering great content to the right audience at the right time.