Automatic Pilot
Why those who will make the best video ad campaigns of tomorrow are embracing new technology today.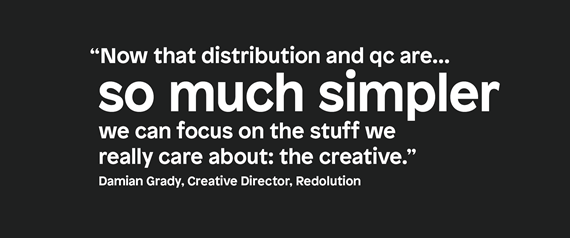 This post was originally published on IMD and Honeycomb's blogs.
This is an exciting time for creatives. Opportunities for groundbreaking advertising campaigns are proliferating across different media. Addressable advertising is now within reach, making each ad more relevant to those who see it. Today, great creative can make a bigger impact than ever.
Yet many creatives and media agencies feel frustrated. They can see the potential of personalised advertising but, when getting even a single ad to screens is so complicated, executing a targeted campaign seems impossible.
It's not impossible. In fact, it's surprisingly straightforward. But as with so many things in life, the key to success is preparation.
Agencies that are streamlining workflows now are set up to succeed. Even if they're not yet ready to deliver an addressable campaign, agencies can free themselves from cumbersome workflows built around decades old technology.
By improving efficiencies today they'll immediately save time and money. And as soon as they're ready to build their first targeted campaign, there'll be nothing to hold them back.
"Your platform saved us 75% of the time we used to spend on QC and distribution...we can now manage distribution faster and more easily and focus our efforts on other parts of the business."
- Michael Messih, Production Supervisor - Hogarth
Targeted advertising: more volume, more impact
With connected TVs in an ever-increasing number of households, cleverly targeted advertising is already a reality: In the UK, Sky's addressable arm, Sky Adsmart, alone has a reach of 42% of British households. Showing subtly different messages to carefully segmented audience demographics can have a dramatic impact on brand engagement, and now it's easy for advertisers to do.
And it's not just for big brands: local advertisers can now build small campaigns to be shown to specific geographic areas. So as well as creating more relevant and - crucially - cost effective campaigns, addressable technology is opening up TV advertising to a whole new group of brands: 70% of the UK's Sky Adsmart advertisers have never advertised on TV before.
This targeted advertising means that within each campaign, different ads can be shown to different households. Campaigns can contain hundreds, or even thousands, of versions for each ad incorporating different iterations of video content, localised information (e.g. the phone number for the brand's local outlet), and more.
A recent Ford campaign in the US, for example, had 32K versions. Thirty two thousand. Manual distribution systems built for traditional TV campaigns just can't deliver that sort of volume.
Ad distribution is innovating to enable targeted content
This tsunami of opportunity in the industry isn't just a challenge for the creatives. It also means those who power the complex distribution processes behind every campaign are innovating - and fast. We're building the technology agencies need to simplify workflows and streamline processes so that they can handle a new volume of ads, across an ever-growing media landscape.
And of course, simplifying workflows will always save time, money and effort, so it makes business sense to move towards streamlined processes sooner rather than later. The wave of addressable advertising is coming. Wax your proverbial board now and start paddling, or prepare to get washed up.
QC the difference
The first step towards simplicity for forward-thinking agencies is to embrace automation wherever possible.. Automated technical quality check (QC) is high on the list of obvious time-savers.
"Using Peach has dramatically improved our distribution processes. Auto QC and 24/7 deliveries saves the team enormous amounts of time and effort every week. Now we can submit files for QC at any time, and know almost instantly if there are any issues to resolve."
 - Fiona Battersby, Head of Business Affairs Ogilvy
A quick summary of how video ads are QC'd:
Every TV ad has to be checked for technical errors before it is distributed. Although broadcasters often run their own QC, online destinations don't tend to. This early QC ensures files aren't rejected by broadcasters, and that no poor quality videos make it online.
Traditionally, this preliminary QC was done by a broadcast engineer, who watched every ad and flagged any issues. The problem is, even the best broadcast engineer only has one pair of eyes, and even the most dedicated ones have to go home at some point. This manual QC just isn't a viable option for any brand that wants to create hundreds of super targeted ads, or anyone who is burning the midnight oil to hit a killer deadline.
There is an alternative. Peach's reliable automated QC system checks ads in seconds. Should any issues be detected, it lets the uploader know straight away - so they can adjust the files and reupload. Accurately identifying over 95% of content rejections, Auto QC is more reliable than a human and, unlike us weak humans, it can approve tens of thousands of files around the clock.
For agencies ready to distribute high volumes of targeted ads across different media, and for those desperate to get a single ad approved and delivered after 5pm so they can put the kids to bed, Auto QC is a gamechanger.
And by embracing automation early, agencies can seize exciting opportunities as soon as they arise.
The future is here. What's holding you back?
--------
At Peach, we're dedicated to building technology to optimise creativity - now and in the future. We built our advanced Auto QC to ensure quality, simplify your workflow and ensure effortless deliveries 24/7.
To find out more about Auto QC and how we can help you be ready for the future of advertising, get in touch.