Automate to eliminate
What if robots aren't the villains? What if… letting robots do more work allows you to do more of the fun stuff?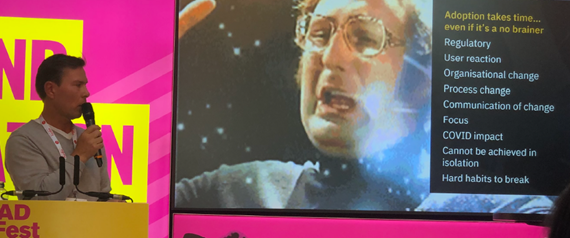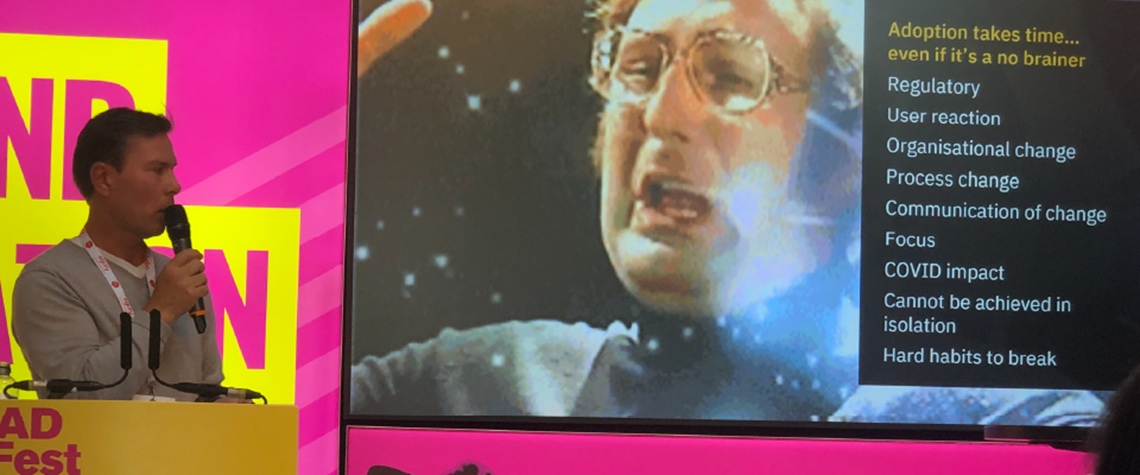 Jason Trout, our Global Chief Digital Officer spoke at Mad//Fest London at the beginning of July at our first #IRL European conference. His session covered the importance for the ad industry to embrace automation and that the fear that it might steal away jobs is unwarranted. 
---
In 1930, John Maynard Keynes thought we'd be working 30 hours a week and our problem would be too much leisure time. His thinking? Like the 19th century print depicts, he thought we would be able to rely on machines to produce the same output quicker and more efficiently… so we can sit back and chill out. Gosh, we wish.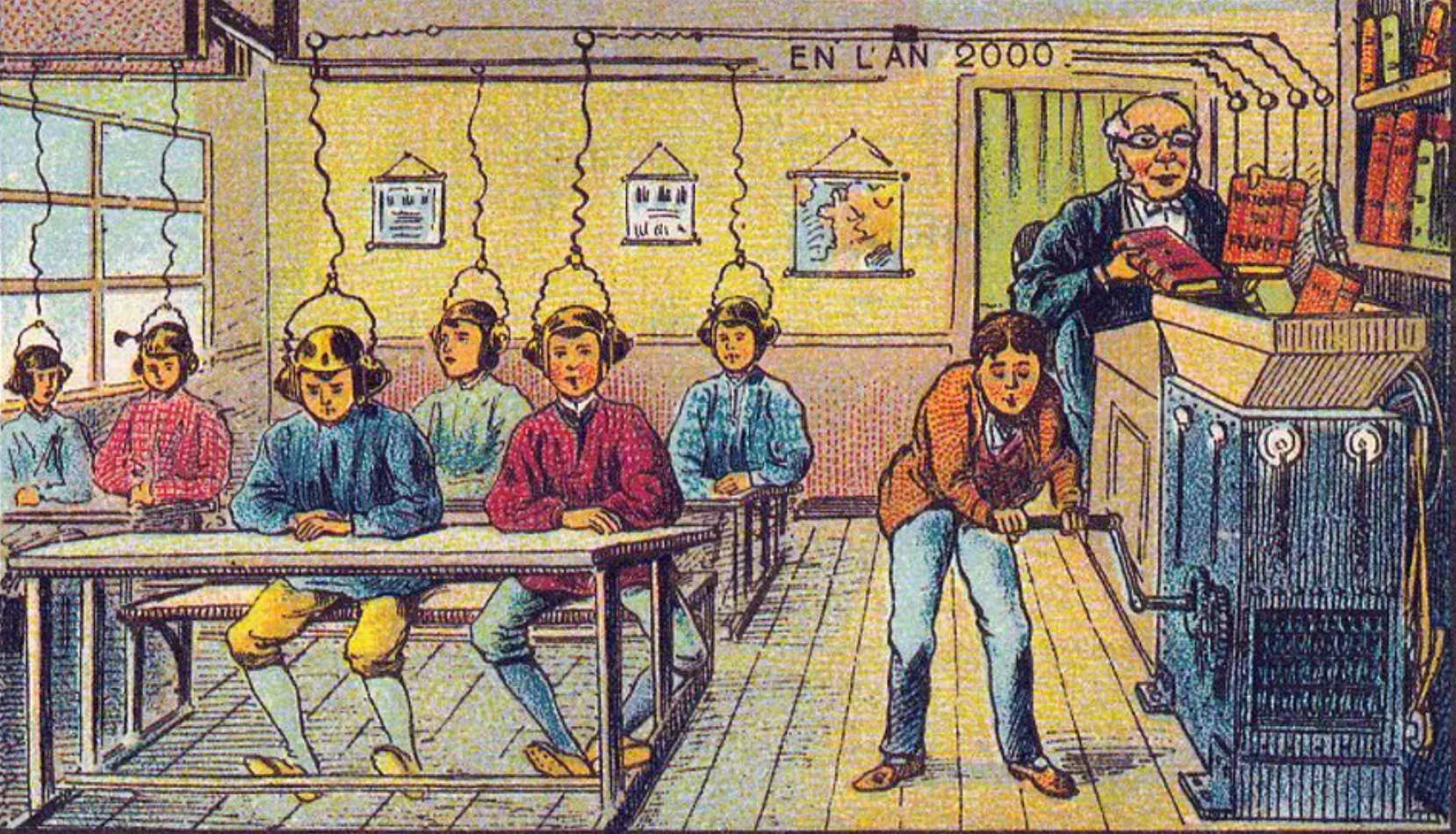 Almost 100 years later and we've still not reached that point. Instead, overwork is often interpreted as commitment, rather than inefficiency. The visions of reduced working weeks were, whether the authors knew it or not, visions of a more effective workforce. But to admit to doing less work is often interpreted as caring less. 
That perception of not looking dedicated, consequently keeps employees boxed in low value and mundane work instead of requesting the support of faster automated alternatives that free up employees to do higher grade work with less effort, allowing the business to scale upwards. 
Why would I suggest automation if that means I'll be replaced?  
Conversations about how automation can improve productivity and reduce costs for businesses are often coupled with stories of how automation is taking jobs away from workers.
According to a report by McKinsey Global Institute, less than 5% of jobs consist of activities that can be fully automated.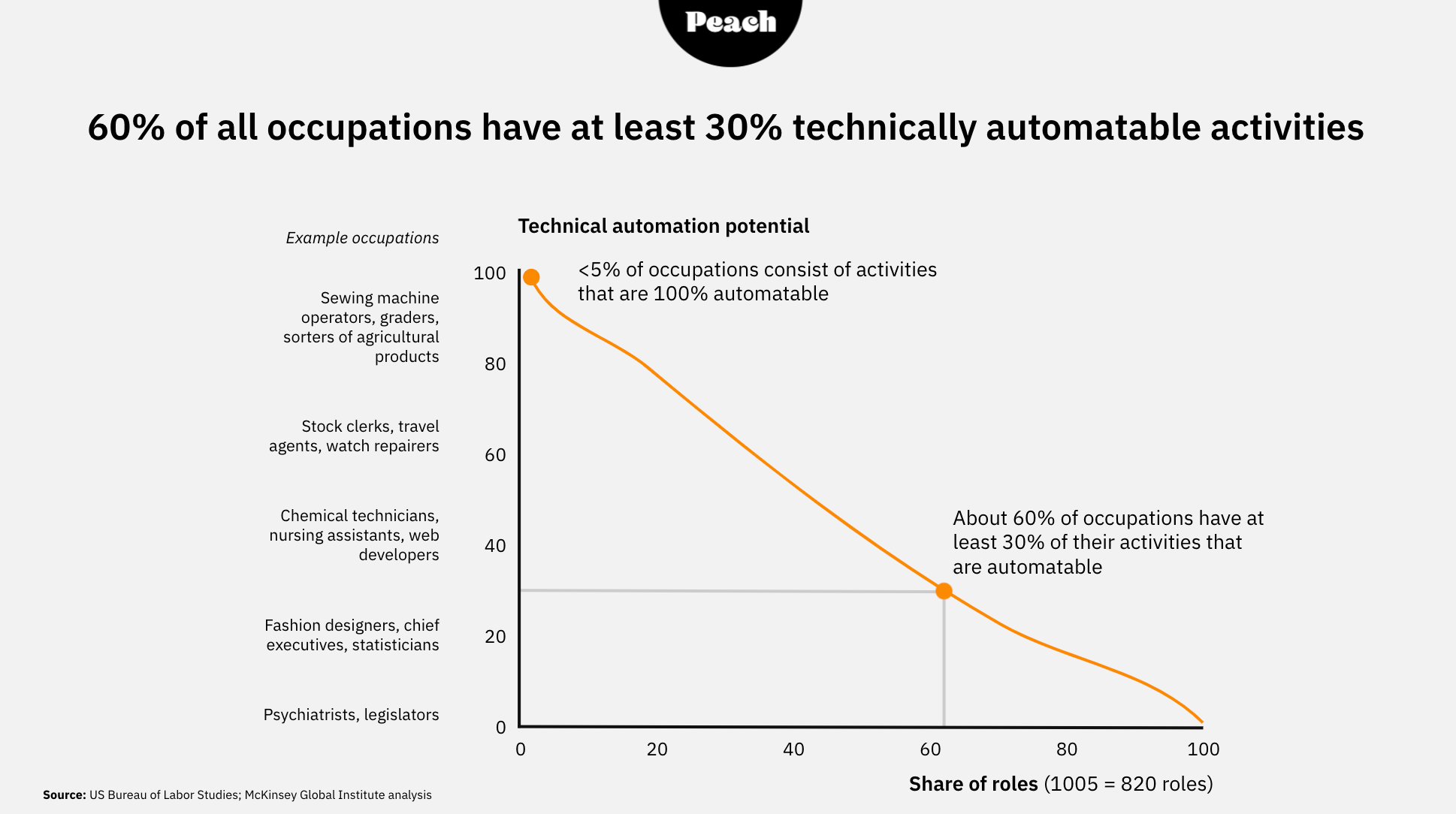 Far more common will be the automation of constituent activities for a given role. In about 60% of occupations, at least one-third of the activities that make up a specific job could be automated. The good news is that most workers see this automation in a positive light and are keen to take advantage of automation that has the potential to make their work — and their lives — better.
Workers surveyed look forward to spending less time on repetitive manual tasks like data entry, and to spending more time on rewarding aspects of their work. Here's a look at how automation could do just that — and how organizations are approaching the automation of repetitive tasks for information workers.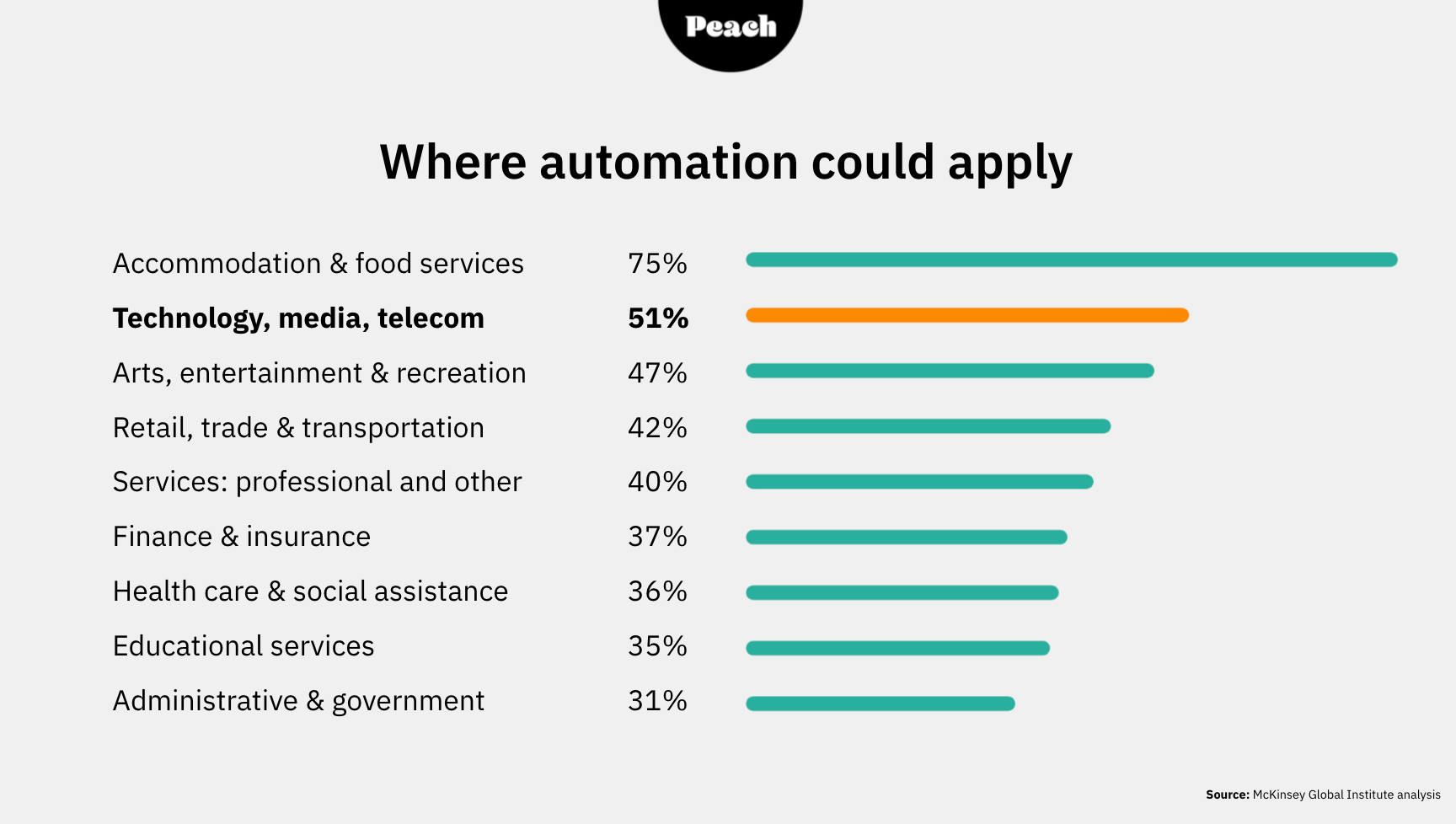 As you can see from the graph above the ad industry has the second highest potential to adopt automation, just below accommodation and food services.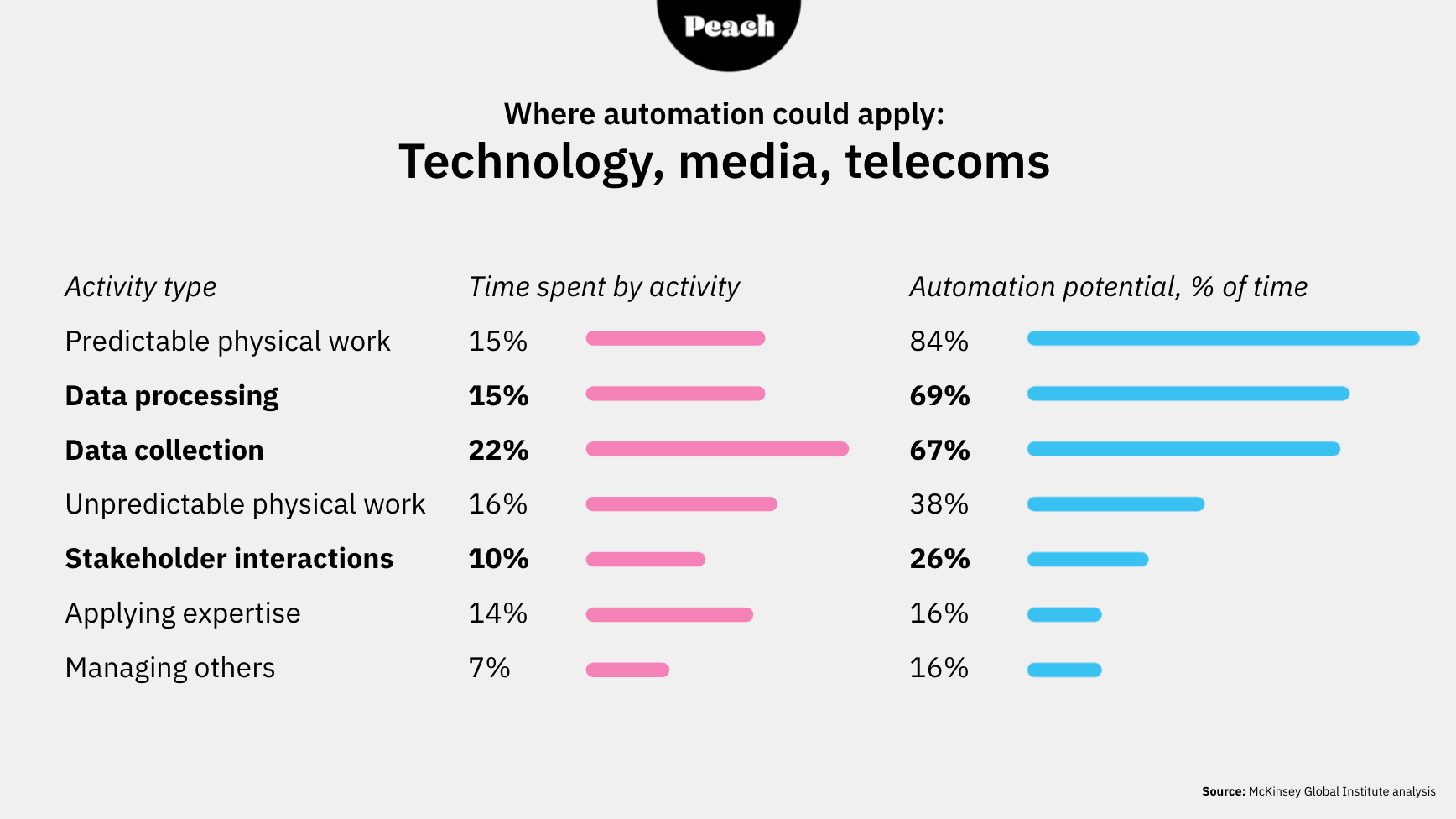 The graph above breaks down that 51% into specific activities where automation can be applied into the ad industry.  
How much time are you wasting? 
According to a Forbes workers survey, 40% of respondents spend a quarter of their work week on repetitive tasks such as emails, data entry and collection. 70% believed that the biggest opportunity to apply automation is to repetitive work, for the ad industry that would be things like approving assets and status update requests. 
Finally, 60% estimated they would in total save 6+ hours of work a week after the introduction of automation to work. This would free them up from admin heavy tasks and realign their focus on creativity and more profitable work. 
Adoption takes time — even though it's a no brainer 
The business and employee case for automation is obvious. So why are businesses so slow at implementation? Even when the logic is clear it takes commitment. It is a process not a quick fix, requiring time and focus from all parties — like potty training a puppy.  
People have always been averse to change even if they recognise it's there to benefit them. The changes need to be communicated, understood and then taught. This might require an organisational change which comes with it's own challenges. 
And, of course, there's Covid-19 too — and how that may have inadvertently slowed down adoption of automation. Firstly, capital may be required to be reinvested elsewhere for short-term business survival. Secondly, new process training becomes a lot more difficult and time consuming when people are working from home instead of together in the office. Businesses may decide to just pause adoption until employees are back in the office permanently - and who knows really when that could be. 
Nonetheless, it is dangerous to ignore the desperate need for the ad industry to modernise. With the explosion of digital, Connected TV and DOOH, things are only going to become more unbearable. Getting digital campaigns live costs time, energy and morale as media is bottlenecked with repetitive tasks. 
In a survey conducted by CoLab they found that:
61% found sourcing content slow and complex

62% acknowledged poor quality content is in use 

96% use different processes across multiple drop off points

65% had no tracking of where their content has been distributed to 
Our suggestion? Invest and adopt now whilst you're still able to cope - it is the only answer to long term survival.