Peach for advertisers
It's your campaign: stay in control
If missing assets, confusing spreadsheets, costly delays and email ping pong are part of your day-to-day, we have some seriously good news for you. 
Peach connects your teams, streamlines processes, ensures quality and keeps you in the loop throughout. So choose Peach and you'll cut the faff, save time, and stay in control.
Move your agencies onto Peach today.
Get started
Get your creative in line (and online)
Automating processes
Activation on time, every time
Peach streamlines processes for your creative and media agency partners, and makes delivery to media owners frictionless, so lead times are reduced and your campaigns always launch on schedule.
Audit trail
Unparalleled transparency
When all your agencies are working on the Peach platform, you know who has what, where your assets are and if there are any gaps. No need to chase by email or phone.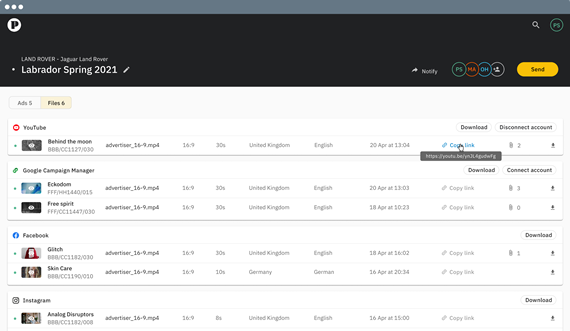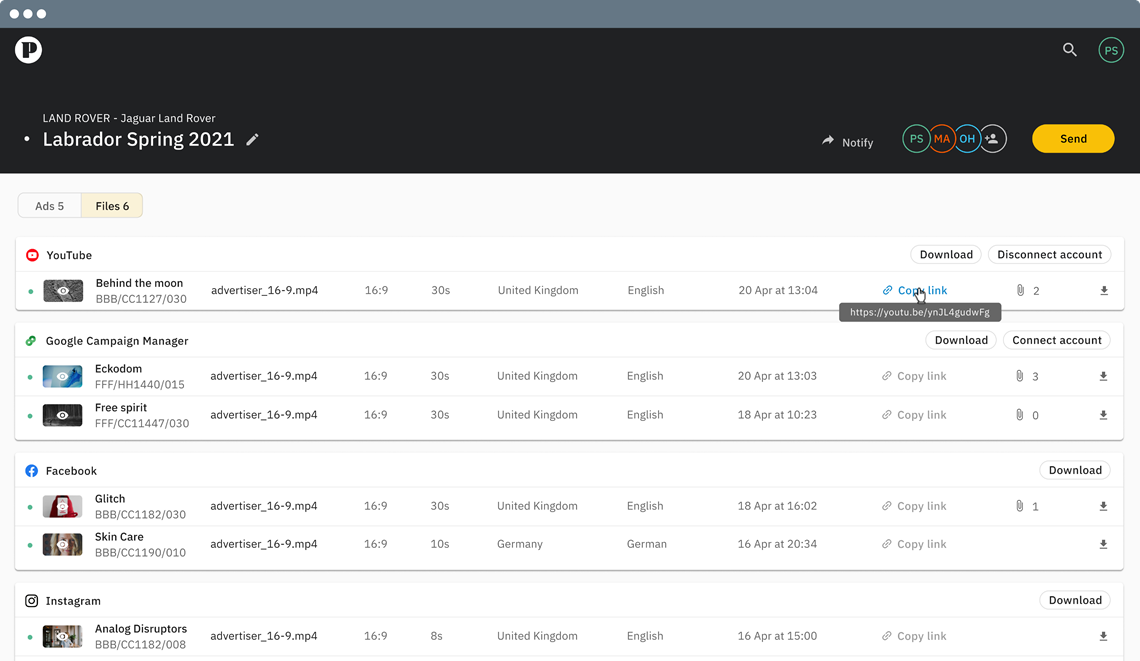 Insights & reporting
Understand ROI
Gain valuable data to understand your creative ad spend. Which countries and platforms are your ads playing out on? Are the durations and aspect ratios you're sending correct for each platform? Understand ROI plus much more.
Reach media around the world
Global scale
With Peach's global team of experts, there's always someone local on hand to make your campaigns come to life, wherever they're heading.
Quality control ads
Be brand beautiful
You need to know that your ad will be shown in perfect quality on every platform. Peach automatically transcodes and quality checks all content so you can rest easy.
Don't settle for a process that "kind of works" — use Peach
The world has changed since media plans were 75% television. With the rise of digital video, distribution and activation across platforms has become more complicated. And until now, workflows haven't evolved to meet the new challenges.
Recent independent research reveals that to stay competitive, agencies need to be able to handle asset management at scale across a rapidly evolving, multi-platform, multi-format landscape.
That's why it makes sense to switch to Peach.
have problems sourcing assets
Everything takes too long and campaigns run late
still use email to receive video assets
No transparency or audit trail
manually check video assets
Risk of poor quality ads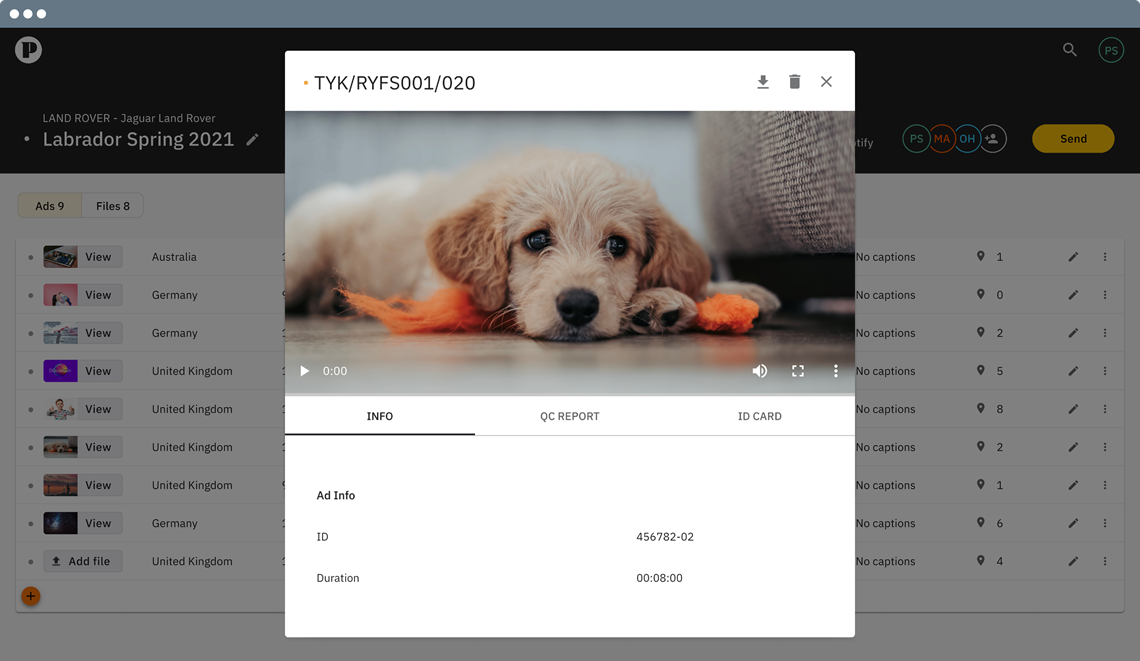 Built for advertising
The platform that ensures industry standards for broadcast, now live for digital and social.
Live status of assets 
You've invested a lot to create video assets. Get the auditable supply chain you deserve, with  visibility into the supply chain, approvals and more.
Reports
 Is your creative working? Get valuable data to understand the effectiveness of your ads and make sense of your analytics.
Transcoding and quality checking
With our proprietary transcoding and quality checks, your assets will look great on any screen, in any format. No more holding digital to lesser standards.
Aspect ratio support
From TV to DOOH, Twitter to Google Campaign Manager in aspect ratios including 1:1, 2:3, 16:9, 9:16 and 4:5.
Designed & built for security
Trusted by brands around the world to look after complex workflows and important assets.
Distribute to platforms
Make ads available to agencies, media owners, social, publishers, broadcasters… anywhere. 
Collaborate
Reduce the time it takes for your partners across Adland to do their work: costs will go down as the chaos subsides.
24/7 chat, email and phone support
International support around the clock from our advertising experts.
Trusted everywhere by the industry's leading names
Connecting agency and production suppliers on Peach improves workflow and communication. Online asset management, fast delivery and 24/7 service means our advertising can be more agile and there is less risk to our valuable media schedule. We have also reduced costs and our carbon footprint.
Unilever
Peach streamlines our video advertising workflow and deliveries in APAC, EMEA and LATAM. With so many moving parts around the world, Peach's technology is central in making our complex processes possible. It keeps our teams communicating and workflows running smoothly.
Melanie Knox
Executive Director, Paramount Pictures
As far as we're concerned, Peach win on service, reach and price. They allow us to link linear and digital video into one simple, automated workflow. With a totally unique global footprint, they repeatedly deliver above and beyond expectations, achieving what we feel are unrivalled levels of service, efficiency and quality.
Gary Szabo
Chief Creative Officer, Tag,
Using Peach has dramatically improved our distribution processes. Auto QC and 24/7 deliveries save the team enormous amounts of time and effort every week. Auto QC really has had a positive impact on our workflow. Now we can submit files for QC at any time, and know almost instantly if there are any issues to resolve. 
Fiona Battersby
Head of Business Affairs, Ogilvy
Incredible customer service. Consistently on hand to help us out...a second eye to the agencies deadlines ensuring copy gets delivered on time. The new live chat box now makes everything almost immediate. Extremely knowledgeable - they'll always offer to step in to get an issue resolved as soon as possible.
Niamh Skelly
Managing Director, Publicis Media