Peach for creative and production
Don't let your creative fall at the final hurdle
Even the most beautiful ads won't land if they're delivered in the wrong format. Peach's automatic transcoding and quality check tools make sure that your stories reach every screen in perfect quality: digital, broadcast or anywhere else. 
Our platform also makes it easier to collaborate with your clients and partners, and simplifies processes from script to screen. You may already be familiar with our broadcast tools: our tech now makes sending flawless digital ads across the finishing line just as easy.
Get started


Collaboration tools
Shorter lead times
With automated quality checks, a one-stop approval process, automatic formatting and more, your work reaches screens faster than ever.
Simplified work lists
Know what's outstanding
Matching a media plan to an asset list can be a headache. Peach tracks assets against media needs so you always know what's still missing.
Single platform
Less confusion
Managing asset delivery by email is a nightmare. Information gets lost, assets get mixed up, things get ugly. With Peach's centralised platform, you know exactly where your assets are.
Real time updates
No last moment freak outs
The reason you get those calls is that there hasn't been a system to keep all parties up to date with asset status. Now there is.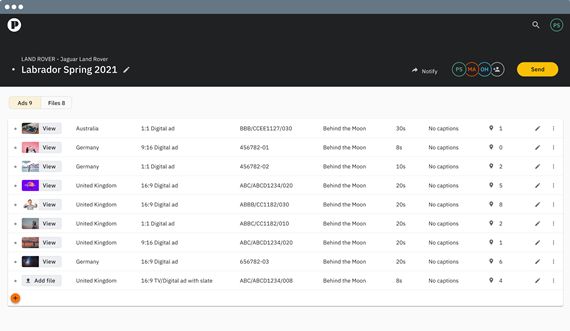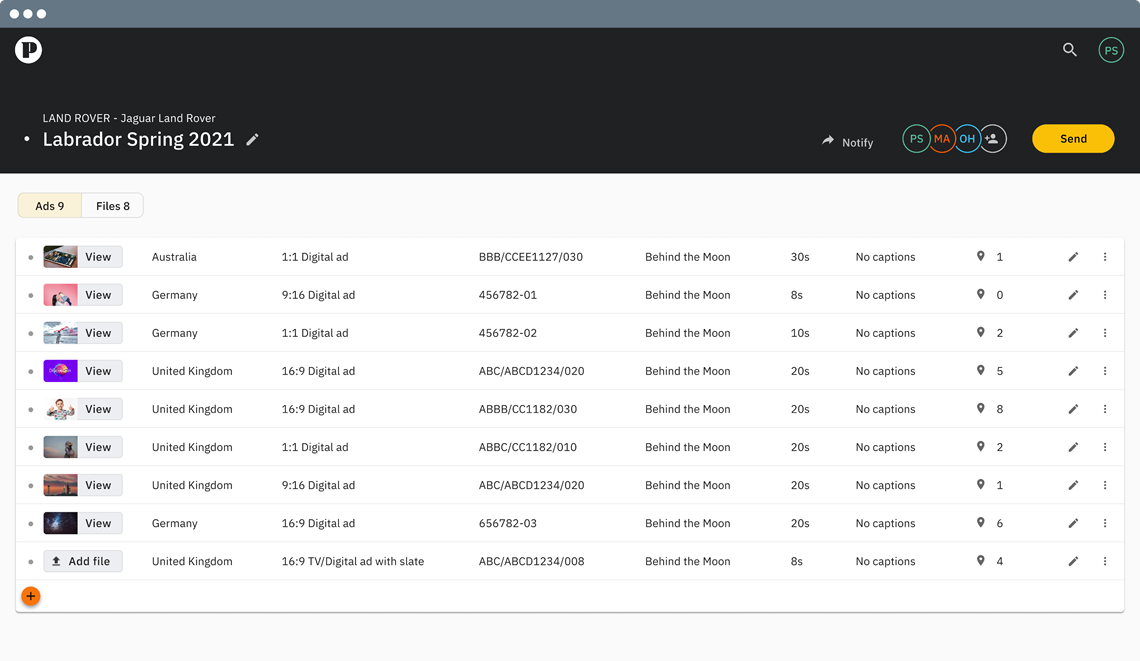 Automatic quality checking and formatting
Beautiful ads on any screen
Your video should look its best everywhere. Peach automatically formats and quality checks all content so you can be confident of flawless quality, every time.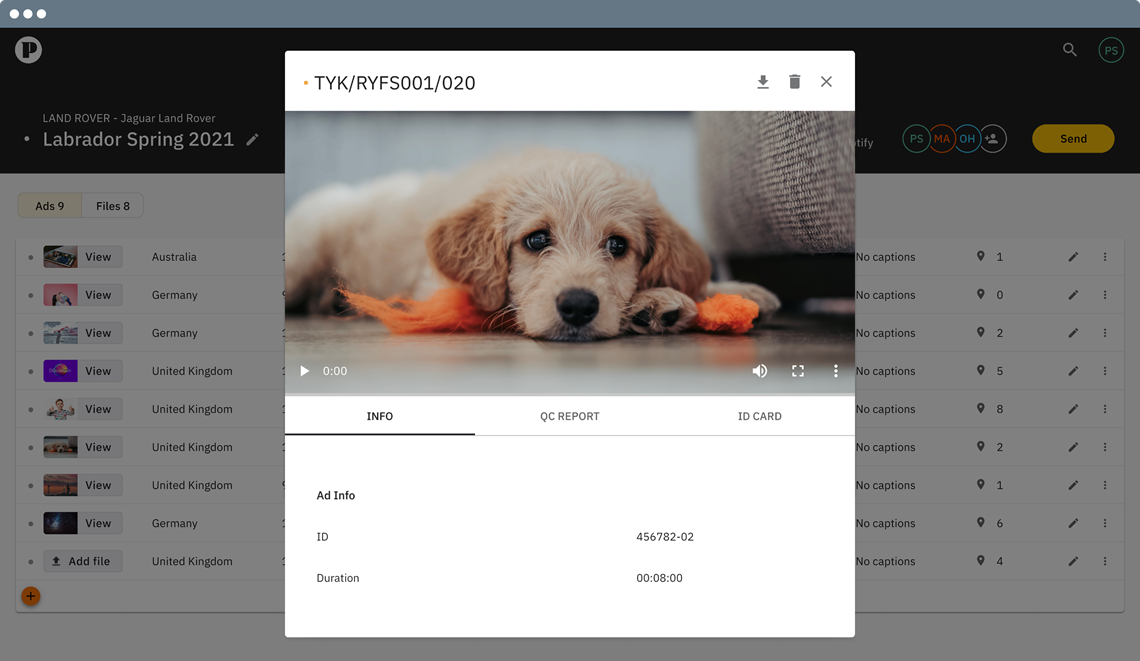 Features producers love
Get started in minutes with our user friendly interface and enjoy benefits tailored to you.
Destination everywhere
The Sky isn't the limit. Get content in any aspect ratio to media agencies, broadcasters, social, BVoD and online securely around the world, through one platform.
Instant quality checks
Make sure videos look and sound perfect wherever they're shown with our real time technical video quality checks. Production teams get feedback when they're still at the edit suite. No waiting around. No back and forth. No rejections from publishers.
Collaborate
Need to work with media agencies, production, planners or ad ops? Save everyone's time and reduce the communication chaos — manage it all from Peach.
We manage the specs so you don't have to
No more hunt the specs. We maintain a database of media owner and platform video file specs for you — so say goodbye to content rejections.
24/7 chat, email and phone support
We might rely on automation to get your ad from A to B but rest assured that's a real person you're talking to and they're always happy to help.
Live status of assets
Know the status of your files — from uploading and QC through  to destinations.
Automatic uploads to ad platforms
Just push your assets directly to a library or account on YouTube, Google Campaign Manager, with many more integrations to follow.
Supports every aspect ratio and screen
From TV to DOOH, Twitter to Google Campaign Manager in any aspect ratio including 1:1, 2:3, 16:9, 9:16 and 4:5.
Designed & built for security
Trusted by brands and agencies around the world to look after complex workflows and important assets.
Update and re-use assets
Last minute campaign changes? Need to play out an ad used last year? Peach makes it easy.
Proof of delivery
After your assets have flown the coop, you'll know exactly which publishers, broadcasters and media owners now have your assets.
Prioritise immediate delivery
In a rush? Get your assets distributed immediately to broadcasters, platforms and publishers around the world.
We've got your back
"Peach has never failed to deliver. What sets them apart is their incredible customer service: extremely knowledgeable, always on hand, and always quick to respond. The live chat box makes everything almost immediate."
— Niamh Skelly, Head of Production, Publicis Dublin
Chat
Accessible via the Peach platform. Just click the button at the bottom of the screen and type away.
Phone
Want to talk through an issue? Feel free to give us a call and we'll be happy to help.
Website
Message us through our website and we'll reply pronto.
Who we work with
Here are just some of the world class agencies and brands who work with Peach every day.
They don't just settle for a process that "kind of works" so, why should you?
Using Peach has dramatically improved our distribution processes. Auto QC and 24/7 deliveries save the team enormous amounts of time and effort every week. Auto QC really has had a positive impact on our workflow. Now we can submit files for QC at any time, and know almost instantly if there are any issues to resolve. 
Fiona Battersby
Head of Business Affairs, Ogilvy
As far as we're concerned, Peach win on service, reach and price. They allow us to link linear and digital video into one simple, automated workflow. With a totally unique global footprint, they repeatedly deliver above and beyond expectations, achieving what we feel are unrivalled levels of service, efficiency and quality.
Gary Szabo
Chief Creative Officer, Tag,
We work closely with Peach to aid us in the management and delivery of our various movie studio clients' global marketing campaigns. Their technology is simple to use and the platform helps us collaborate between our offices in London and LA by giving us complete visibility and control over the global delivery workflow. We would have no hesitation in recommending them to our clients.
Ben Nicholls
CEO, The PPC
Incredible customer service. Consistently on hand to help us out...a second eye to the agencies deadlines ensuring copy gets delivered on time. The new live chat box now makes everything almost immediate. Extremely knowledgeable - they'll always offer to step in to get an issue resolved as soon as possible.
Niamh Skelly
Managing Director, Publicis Media
Brilliant to work with. Whether its delivering final files from post houses in Dublin or sitting in a post house somewhere else in the world its always great knowing that Peach are available whenever we need them. We can look back on previous ads, request files, create storyboards, dispatch old copy - all at the click of a button.
Sarah Chadwick
Producer, Boys & Girls
Peach's fully integrated technology enables us to easily manage demanding workflows across our multitude of digital and linear channels. Removing friction from complex processes, Peach improves speed and efficiency right across our ever evolving media ecosystem. We rely on Peach's technology to help keep us at the cutting edge of industry advancement.
Steve Hutchinson
Head of Commercial Operations & Content at BSkyB Ltd, Sky
Peach is fantastic. Their platform is great, making playouts easier and less time consuming. Auto QC is awesome - you know straight away if your file has passed or failed, giving you time to fix any issues needed. Peach Rocks!
Danielle Nadal
Head of Traffic, Framestore