Reading Between the Lions
What made a splash at Cannes Lions 2018: the year's biggest celebration of advertising.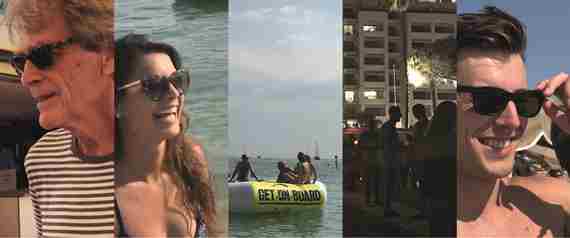 This post was originally published on IMD and Honeycomb's blogs.
Here's our lowdown of what made an impact at 2018's biggest celebration of advertising, with insights from exciting brands, ambitious start-ups, their own expert team, and Sir John Hegarty himself.
https://www.youtube.com/watch?v=JvaIxFBQdGU
Small screen = big impact
If it had somehow escaped your notice until now, a few conversations at Cannes this year would have brought you fully up to speed about the importance of mobile video as an advertising platform. Video advertising on mobile is getting significant traction and driving revenue: the eyeballs are on the mobile platforms and the money follows the eyeballs...so it was very clear what lots of the brands at Cannes will be focusing on in the next year.
Contextual advertising moves into video
It's long been possible for advertisers to scan written content to identify keywords and insert relevant ads into online content. Now, video content is being tagged with keywords so advertisers can serve ads that are relevant to the content of the video. This promises to make a significant impact in the industry, and it's one that the forward-looking brands are starting to embrace.
Videotech is king
Adtech and videotech companies were everywhere at Cannes. AT&T's recent takeover of TimeWarner and announcement of their deal to buy digital ad marketplace AppNexus, demonstrate the DSP giant's recognition of the importance of videotech. And they're not the only ones interested in the commercialisation of video content. With Comcast (whose party was headlined by MosDef, no less), AppNexus, Teads and Innovid among many more competing for brain and beach space at Cannes this year, videotech is challenging creative for the most exciting headlines of the festival.
The rise of social
Brands may have had a slightly lower profile at the festival this year. But the tech and social media giants were more than enough to fill the void. Tellingly, Facebook's beach had expanded into the beach previously occupied by Unilever, Twitter and Youtube had their own beaches, and Spotify had Kylie. Enough said.
Advertising = media
A line of 300+ people without wristbands outside the Vice party at the world's largest festival of advertising just goes to show that not only is it hard to tell where advertising stops and media starts, but more importantly, that nobody cares. The lines between publishing and creative continues to blur and the festival's best parties were thrown somewhere in the middle.
Adtech on the red carpet (at last)
While adtech has been a key part of Cannes Lions for years, it could never have been considered the most glamorous guest at the party. But this year, as companies like Peach, and never.no bring addressable technology within reach, producers and account directors were keener than ever to discuss the potential of new technology. They're excited about the optimisation of ads, and it seems that 2019 will be the year that brands recognise - and act upon - the promise of programmatic.
Bring things in house
As part of a wider drive to bring down costs and increase creative control - and despite the recent Pepsi fiasco - brands and agencies are continuing to pull jobs and data in-house. International brands are centralising their ad operations, which is putting post houses under strain. The whole industry is moving towards a full service model, revealing a need - and an opportunity - for services to provide accurate and usable in-house data analysis.
Cost > quality
The debate between cost and quality is finally over. Smart technology is enabling increased ROI without any reduction in creative quality, so this year, automation and efficiency were the buzzwords on the beach.
Data in the driving seat
The trend towards data-driven advertising models continues to prevail. Smaller agencies are following PUBLICIS' lead and shifting budgets to create their own data-driven models. And while the creatives look towards optimising data, consultancy giants like Accenture and Deloite are actively looking for data-led opportunities in the creative and media industries.
Focus, focus, focus
Despite innumerable glasses of rosé, the big names at Cannes were demonstrating impressive levels of focus. Brands are focusing on a few media channels to optimise budgets and streamline communication. Meanwhile, in the fall out from big fraud cases and data leaks (we're looking at you, Facebook), global brands are focussing on local brands within their portfolios, and on their profitable core markets.
---
P.S. We were lucky enough to interview the great Sir John Hegarty. The thing making a splash in his world this year has been working with the United Nations on the World Food Programme.  Download the Share The Meal app here.