A New Order: Manchester's Creative Oasis
A comprehensive industry guide to Manchester by some of the city's top creative talent.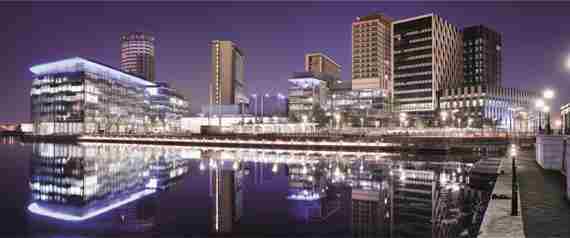 A comprehensive industry guide to Manchester by some of the city's top creative talent.
In recent years, advances in technology and connectivity, as well as steep overheads building in the UK's capital, have seen other major UK cities, including Manchester, Bristol, Cardiff, Leeds and Edinburgh, light the way for a more diverse UK creative market.
In the past decade, the huge media migration to Salford, Manchester, has seen the city's creative scene flourish around its unique cultural history. We speak to some of Manchester's best creative companies to get the low down on Manchester's rapidly evolving creative scene.
Contributing are Mark Collins, director of production at The Mob Film Company; The team at Rabble Post; Abi Atkinson, senior producer at LS Productions; Ady Bibby, managing director at True North and Becci Nadin, senior copywriter at McCann Manchester.
Versions of this article first appeared on LBBOnline and the Honeycomb blog.
---
In your field, how has the creative scene in the North changed in recent years?
Mark Collins, The Mob: It's unrecognisable compared to 10 years ago when The Mob opened a small office here, and that was before even the BBC had even confirmed it was heading north. In those days crew, graduates and pool of creative wannabees just didn't exist or at least they were thin on the ground but then again so were the jobs or opportunities for them. These days it's easily a natural alternative to London. The snobbery has gone and everyone wants to be here now. We not only have a vast choice of crew, kit, facilities, studios but the city has taken notice too with the best social scene outside of the capital.
Rabble: There's been a real boom in the advertising and production sectors. The introduction of Media City and the BBC's move helped to reinforce the fact there is a strong talent pool here, every bit the rival to London creatives. Seeing the number of new creative agencies and digital content specialists that are helping to feed the established businesses here has been great. Now that Channel 4 is moving an operation to Leeds means more work for new businesses to flourish, all of which is very encouraging for the North's prospects.
Abi Atkinson, LS Productions: The infrastructure and growth of the creative, TV and film industries in Manchester has flourished over the past 5–10 years and continues to go from strength to strength. With the increase in production in the regions, this has inevitably driven demand for more studios, more production companies, more post houses and, consequently, more talent.
Ady Bibby, True North: Manchester has always been a hotbed for creativity and has continued to do so over the past few years. Alongside the usual suspects, there are a number of new agencies that are producing excellent work.
Becci Nadin, McCann Manchester: In my field, copywriting, I feel the old school craft has somewhere been lost along the way in recent years. I honestly want to cling to anyone who can teach me more about language. I also think the industry as a whole has become a lot less boozy! But that's not a bad thing. The work ethic just gets stronger and stronger. The creative people in Manchester are absolute grafters. We get our heads down and we get things done. We've always had a 'yes' attitude, no matter the timescale or budget. I think most clients are blown away by how quickly we can get the work done here.
What is drawing creative talent to Manchester?
Mark Collins: Credibility and creativity.
Rabble: Its inclusivity and accessibility, as well as the opportunity to work in a region with opportunities for growth which stand out from the established hierarchies of London.
Ady Bibby: The quality of the agencies and the calibre of the work they attract.
Becci Nadin: It sounds cliché but Manchester is packed with some of the greatest people you will ever meet. I could bore you to tears with the people I've met along the way. They're passionate, feisty, sharp and that's everyone, not just advertising folk. I feel like I wouldn't have met these people anywhere else in the world. London, New York and Paris can be daunting, but in Manchester we will make friends with anyone.
Why should more talented people in your field consider Manchester?
Mark Collins: Simply because you don't have to go to London now to break-in to this industry, there's a multitude of industries spread across the North West and with Channel 4 set to follow in Leeds there's no looking back.
Rabble: The work we do is every bit as great as that in London, but we can actually afford the rent and a pint up here.
Ady Bibby: All the usual cliché's apply… cost of living, sky-high rent, long commutes etc. It's just a bit nicer up here.
Becci Nadin: Manchester is ready when you are, whether you're just starting out or mid-way through your career, there is opportunity. Obviously it has a good quality of life here. You can have your cake and eat it. You have all the good clients you can find in London, but you can live 10 mins away from the office and not in a box room. People think Manchester is some bleak 'Peaky Blinders' style backwards place but it is the complete opposite, it's a cosmopolitan city and I can't wait for people to realise it.
THE RUN DOWN
Key area of the city for Production?
Mark Collins: Media City
Rabble: Media City, Sharp Project and City Centre in general
Abi Atkinson: Locations-wise, NQ (Northern Quarter) is thriving. There are tons of period dramas with buildings being dressed to look like 1920s New York. Castlefield's canals, bridges, mills and warehouses are one-of-a-kind, as are Victorian and Art Deco locations like Victoria Baths, Albert Hall and Manchester Town Hall — where part of Mary Shelley's Frankenstein was filmed!
Becci Nadin: I'd say its scattered, I tend to start at Chief in Media City and work my way out.
Favourite studio?
Mark Collins: Space Project
Becci Nadin: It would be wrong of me not to say McCann's studios. It's like Aladdin's cave in there. It's amazing
Favourite exterior shoot location?
Mark Collins: Northern Quarter
Ady Bibby: Alderley Park
Becci Nadin: I'm allergic to the cold. The weather is how you'd expect. So, I avoid exterior shoots at all costs. My art director would probably say Jodrell Bank though.
Top tip for navigating Media City?
Mark Collins: Google Maps
Ady Bibby: Go with someone who knows it.
Becci Nadin: Know where you're going before you get there and keep your phone to hand because you never know what daytime TV stars you may bump into!
Best place for a business lunch?
Abi Atkinson: Cottonopolis, Australasia, Rudy's Pizzeria — Peter Street, Alberts Schloss, Bohemian bier palace.
Becci Nadin: With clients, El Gato Negro serves great tapas. Without clients, Gaucho does a brilliant bottomless brunch.
Best place for business drinks?
Rabble: The bar here at Rabble has proven popular with clients.
Ady Bibby: Flok.
Becci Nadin: 20 Stories in Spinningfields does great cocktails.
Manchester's must visit place?
Mark Collins: MOSI.
Rabble: John Rylands Library juxtaposed against the Spinningfields development is a good distillation of the city's history as well as its future, and Yes opened by Now Wave music promoters is a great new venue for watching live music and socialising in a fun creative space.
Becci Nadin: King Street Town House Spa. It has an infinity pool that looks out to the clock tower. It's an amazing view, even if it's a rubbish day!
If you go to a football match… United or City?
Mark Collins: Both.
Rabble: We work with both, so we only go to the Derby matches where the winner is always Manchester.
Ady Bibby: Neither — the Crown Oil Arena, home of Rochdale AFC.
Becci Nadin: Well my mum is a die-hard United fan and my husband is City, so I tend to side with my dad and say Southampton!
---
You can read the full article over at Little Black Book.