#gamechanger
Peach now delivers ads to Twitter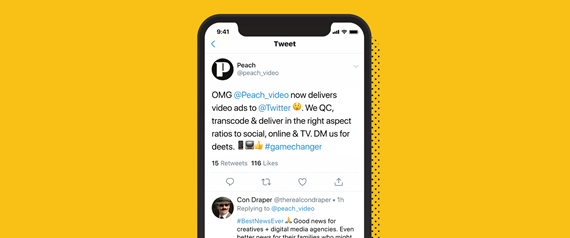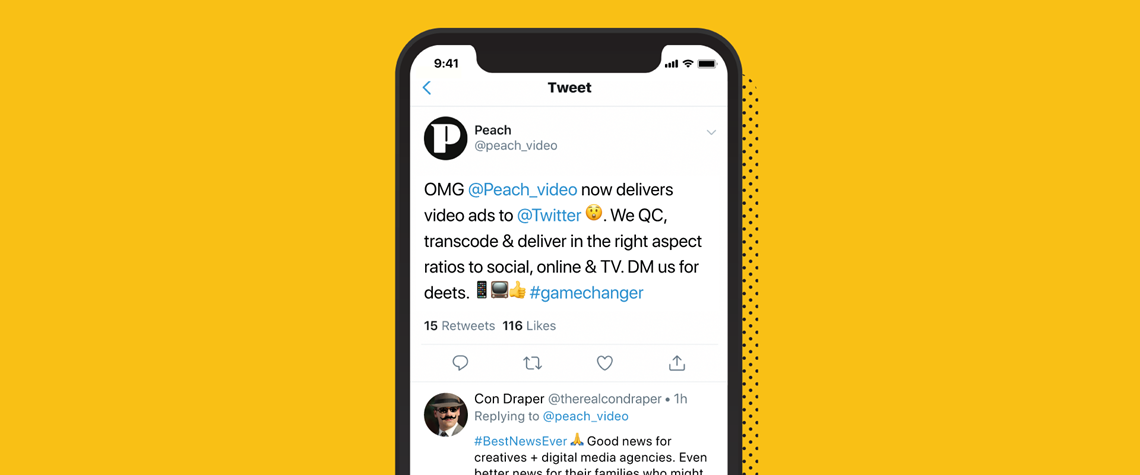 We now deliver video ads to Twitter, alongside Facebook, YouTube and Instagram.
Oh, and online publishers, media agencies, VoD destinations and good old-fashioned broadcast TV.
Peach will QC, transcode and deliver in the right aspect ratios for each destination. Once you upload your video file, Peach will check, approve and deliver your perfectly formatted ad to your selected social media libraries ready for you to publish. With all your assets in one place it's easy to keep track of where your ads have gone and know when they've been delivered.
Not only does this new integration mean efficiency improvements for anyone sending ads to social, it also has serious creative potential. As anyone who's ever double screened while watching #GOT (or marvelled at the Twitter threads at work the next day) knows, Twitter is the natural home of conversations about TV. So if you're running a TV campaign, simultaneously showing your message across mobile devices while your ad is on air can dramatically improve engagement and increase the impact of your creative.
Aspect ratios for Twitter
Twitter recommends aspect ratios of 16:9, 1:1, 9:16. Peach will also approve and deliver files in 3:4 and 4:5 aspect ratios. We don't make any changes to the creative, so we don't alter aspect ratios by cropping or stretching the video. If files are in unapproved aspect ratios your videos will be rejected, ensuring that your videos are always viewed in perfect quality. 
You can find out about the correct aspect ratios for Facebook, YouTube and Instagram here, and learn more about deliveries to other social media platforms here. 
Ready to get social? DM us.