Say What Now? #1: SVoD
Welcome to the very first episode of a new series on advertising and technology by members of Team Peach. First up: Jason Trout, our Chief Digital Officer, on why marketers shouldn't fear the SVoD era.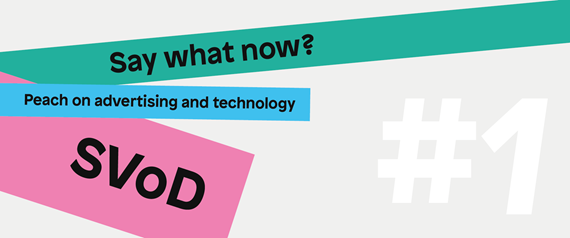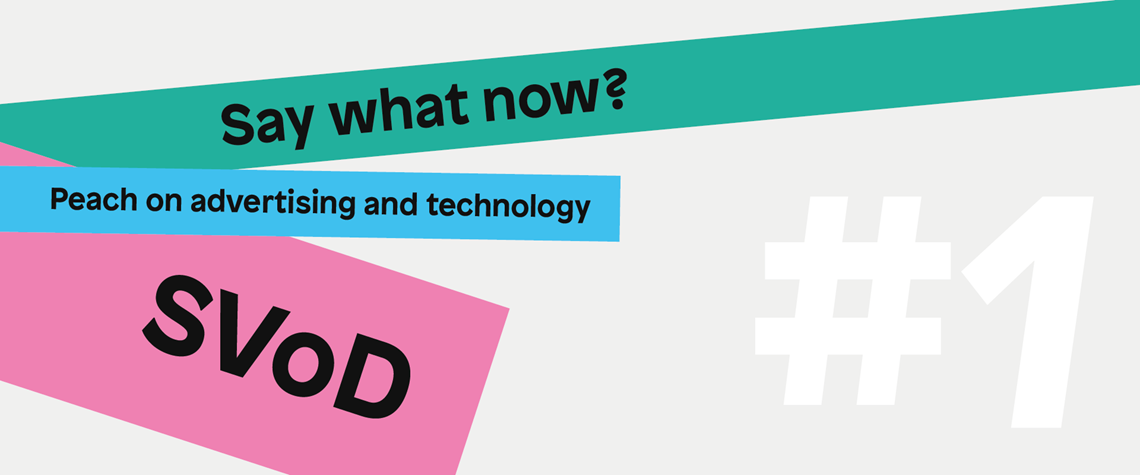 Peach's Chief Digital Officer, Jason Trout, celebrates the opportunities that await advertisers in the video-on-demand sector.
SVoD is an abbreviation for 'subscription video on demand'. Services like Netflix, Disney Plus and Amazon Prime Video are all examples of SVoD platforms because consumers pay a subscription fee every month in order to watch them. This is opposed to traditional VoD platforms, which include catch-up TV services such as All 4 which require no subscription fee.
While it may seem like there's a shiny new video streaming platform every five minutes, public appetite for streaming content is only going up. Recently we learned that Disney Plus (a platform so new it isn't even available in the UK yet) has amassed a jaw-dropping 28.6 million subscribers, despite being on the market for less than three months at the time the data was collected. 
With such a positive trend for SVoD platforms, you'd be forgiven for seeing this as bad news for marketers. The very nature of a subscription platform makes it impossible to put traditional spot-based ads in front of peoples' eyes — and there's also the fear that these subscription platforms will become so popular that they start to take viewers away from the VoD channels where advertisers can reach them. 
However, at Peach we think this fear is misplaced. If there is a relationship between the success of SVoD platforms and the number of VoD consumers, it's an additive one. This is because the kind of content that really drives audience numbers on VoD platforms tends to be more regional and non-scripted - something in the vein of Love Island, for example. It's satisfying a different demand to SVoD, in the same way that you probably wouldn't go to a VoD platform to watch a movie. They're two platforms that can co-exist quite happily. 
New Challenges for SVoD
For their part, SVoD platforms are facing challenges of their own. The ever-rising number of different services is going to make account sharing even more popular with users keen to keep their spending down. In terms of data, this presents another headache for marketers who won't be able to tell who is using which account at which time, meaning that first-party data collected from these platforms will be seriously flawed.
Strangely enough, SVoD platforms can seem surprisingly happy to allow account sharing to take place. From their perspective, the practice serves as a powerful marketing tool to get their service in front of more eyeballs and get people thinking 'actually this is great, and I fancy getting my own account'. A lot of what we've seen from Netflix in terms of their account sharing policy has been quite wooly, and there's certainly no great visible drive from SVoD platforms to crack down on it.
Eyeballs are on VoD
The kind of content that you tend to find on SVoD platforms - blockbuster films, big-name actors - has often left VoD platforms seen as second class citizens. While it may have been accurate in the past, modern VoD platforms have evolved and improved in so many ways. Even the user interface of these platforms has become a lot more slick and contemporary. 
For advertisers, this presents a great opportunity. VoD platforms are where the eyeballs are, and the services have a really interesting few years ahead of them. There's no doubt that people are moving to consume content in an on-demand way, and the speed of delivery for these platforms means that the quality they offer is only going to go up in the age of 5G networks. 
The fear from advertisers that the TV as a device was dead and video consumption was going all mobile now looks misguided. What we are seeing is VoD on the living room screen is back. This presents a great opportunity for savvy marketers but also a challenge. The challenge is marketers need to ensure that their ads are relevant, high quality, frame-accurate and correctly formatted - more so then when advertising on mobile devices. There's also the challenge of ad liquidity that most VoD's struggle with, like not enough unique ads to keep things fresh, a danger of running the same ad twice in the same show, or even the chance of competitive ads airing in the same commercial break (e.g. Coca-Cola and Pepsi). But when done correctly the opportunities are obvious: excellent targeting opportunities means highly relevant ad placement and a screen experience that will show the creative in its full splendor. Successful clients have seized this opportunity by creating more broadcast-quality ad versions that are relevant to the platforms and indeed the context of those platforms.
Issues such as brand safety and trust are totally neutralised with VoD platforms - you can be sure that your ad will appear in a perfectly brand-safe and controllable environment, creating a clear opportunity for contextual advertising. 
As more and more consumers get used to the idea of on-demand consumption, the future is looking bright for VoD. And at the beginning of a decade that looks set to be dominated by ad-free subscription platforms, that can only be good news for marketers.